December Numbers Reported by the National Association of Realtors
Friday, January 22, 2010
National Market Trends
As expected, the National Association of Realtors (NAR) reported a decline in existing home sales at the end of 2009, as first time buyers rushed to beat the tax credit deadline and close their transactions by November 30. Although Existing home sales fell by 16.7 percent in December, sales remained brisk enough to break the 5 million unit mark, bringing total the number of existing homes sales up to 5,156,000 for all of 2009. The 2009 sales figures were almost 5 percent higher than the year before, creating first year-over-year sales gain since 2005.
Chief NAR economist Lawrence Yun remains cautiously optimistic about the national housing market. "It's significant that home sales remain above year-ago levels, but the market is going through a period of swings driven by the tax credit," he said. 'We'll likely have another surge in the spring as home buyers take advantage of the extended and expanded tax credit. By early summer the overall market should benefit from more balanced inventory, and sales are on track to rise again in 2010. However, the job market remains a concern and could dampen the housing recovery – job creation is key to a continued recovery in the second half of the year."
Great Opportunity for Buyers
Historically low interest rates and the extended federal tax credit have helped millions of buyers take advantage of one of the best buyers markets in history. Market conditions have improved considerably with the help of these stabilizing forces. Expect to see continued market activity through the winter and spring as savvy buyers take advantage of the extended $8,000 tax credit. Freddie Mac reports that 30 year conventional loans available in the high-4 to low-5 percent range.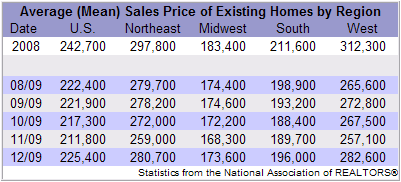 Increased demand has shrunk inventory while slightly raising homes prices. The national median existing home price rose to $178,300 in December, up 1.5 percent over 2008 prices. The increase was attributed in part to an increase in mid- to upper-priced homes.
The reduction of housing inventory has brought stability to many parts of the country, creating more competition for available homes, and multiple offers in some areas.