Housing Sales Statistics released by National Association of Realtors
Friday, October 09, 2009
For the first time in five years, existing home sales have increased for four months in a row, according to an August report by the The National Association of Realtors® (NAR). Existing home sales - including single-family, townhomes, condominiums, and co-ops - increased 7.2 percent in July, which is the largest monthly sales gain recorded since 1999. Analysts are projecting an increase in 2009 of existing home sales to a seasonally adjusted annual rate of 5.24 million units, which is 5 percent above the 4.99 million-unit pace set in July 2008.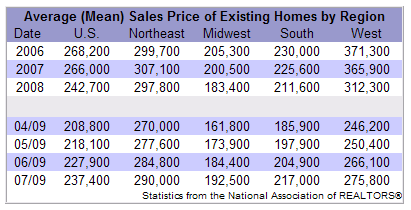 "The housing market has decisively turned for the better," said Lawrence Yun, chief NAR economist. "A combination of first-time buyers taking advantage of the housing stimulus tax credit and greatly improved affordability conditions are contributing to higher sales."
Lending Trends
Freddie Mac reported that the national average commitment rate for a 30-year, conventional, fixed-rate mortgage dropped to 5.22 percent in July from 5.42 percent in June. This is a dramatic rate reduction compared to the 6.43 percent rate available in July 2008. According to a survey by NAR, first-time buyers accounted for 30 percent of homes purchased in July, while distressed homes accounted for 31 percent of transactions.