National Association of Realtors (NAR) Releases January Sales Analysis
Monday, February 15, 2010
Existing home sales are up in 2010 compared to the same time a year ago. According to the National Association of REALTORS (NAR), existing homes sales -- including single family, condominiums, townhomes and co-ops -- were up 11.5 percent from January 2009 levels. At the current pace, NAR is projecting existing home sales of 5.05 million units for the year. Total housing inventory is down 0.5 percent to 3.27 million units nationally.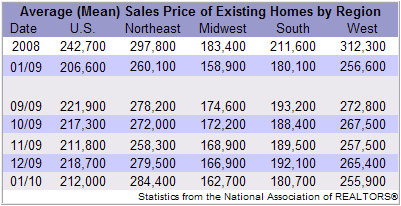 NAR chief economist Lawrence Yun is watching the sales data very closely. "Activity should be picking up strongly in late spring as buyers take advantage of the tax credit, which is critical to absorb distressed properties reaching the market and to continually chip away at inventory," Yun said. "With a downtrend in the number of homes on the market, especially in the lower price ranges, values are beginning to firm but with great variance around the country."
Mortgage backer Freddie Mac reported an average commitment rate for a 30-year, conventional, fixed-rate mortgage of 5.03 percent in January. This is up slightly from 4.93 percent available in December 2009, but down overall from a year ago when the rate was 5.05 percent in January 2009.