National Association of Realtors Reports Home Prices Stabilizing
Tuesday, May 01, 2012
Inventory Down, Prices Stabilize
A decrease in home inventory has brought added stability to home prices across the country, according to a recent report by the National Association of Realtors (NAR). Total housing inventory declined 1.3 percent in March to 2.37 million existing homes for sale, representing a 6.3 month supply at today's current sales pace.
Existing-home sales, which include recently purchased single family, townhomes, condominiums, and co-ops, are up over 5 percent compared to March 2011, and are on pace to hit 4.48 million units nationally.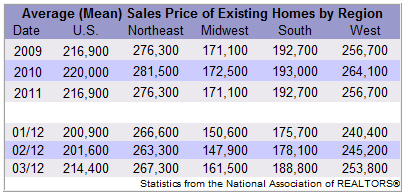 "The recovery is happening though not at a breakout pace, but we have seen nine consecutive months of year-over-year sales increases," said Lawrence Yun, NAR chief economist. "Existing-home sales are moving up and down in a fairly narrow range that is well above the level of activity during the first half of last year. With job growth, low interest rates, bargain home prices and an improving economy, the pent-up demand is coming to market and we expect housing to be notably better this year."
Freddie Mac reports that the national commitment rate for a 30-year fixed-rate mortgage was at 3.95 percent in March, up slightly from 3.89 percent in February. Mortgage rates remain well below the rate of 4.84 percent that was available in March 2011.